While the Left does its best to divert Americans' attention and keep them occupied with the distractions provided by the Deep State's attempted coup efforts and impeachment proceedings against President Trump, the US economy continues its upward progress.
Earlier this week we published the report you can read here in the article, Companies Repatriated 1 Trillion Dollars, Thanks to Trump Tax Cuts. In that article, you can see more proof of the economic gains being made across the nation, and armed with facts like these, you should have more ammo with which to answer the liberal naysayers.
One of the most telling benefits that the president's policies have produced is the improvement in the wages being earned by those on the lowest rungs of the economic ladder.
We have the following from Breitbart News:
The bottom 25 percent of American wage earners secured the largest wage hikes year-to-year compared to all others for November, newly released data reveals, thanks to President Trump's tightening of the United States labor market.
Data from the Federal Reserve Bank of Atlanta shows that for the lowest wage earners, Trump's "Buy American, Hire American" economy has delivered the quickest rate of wage hikes in more than a decade.
In November, the bottom 25 percent of wage earners saw their wages rise 4.5 percent compared to November 2018. These bottom-tier workers, those earning less than all other Americans, have secured a labor market that now resembles the labor market of top-tier workers — a result of less low-skilled foreign competition against Americans through increased interior immigration enforcement.
"A strong labor market makes the bargaining power of lower-paid workers more like the labor market higher-wage workers experience during good times and bad," Indeed.com economist Nick Bunker told the Wall Street Journal.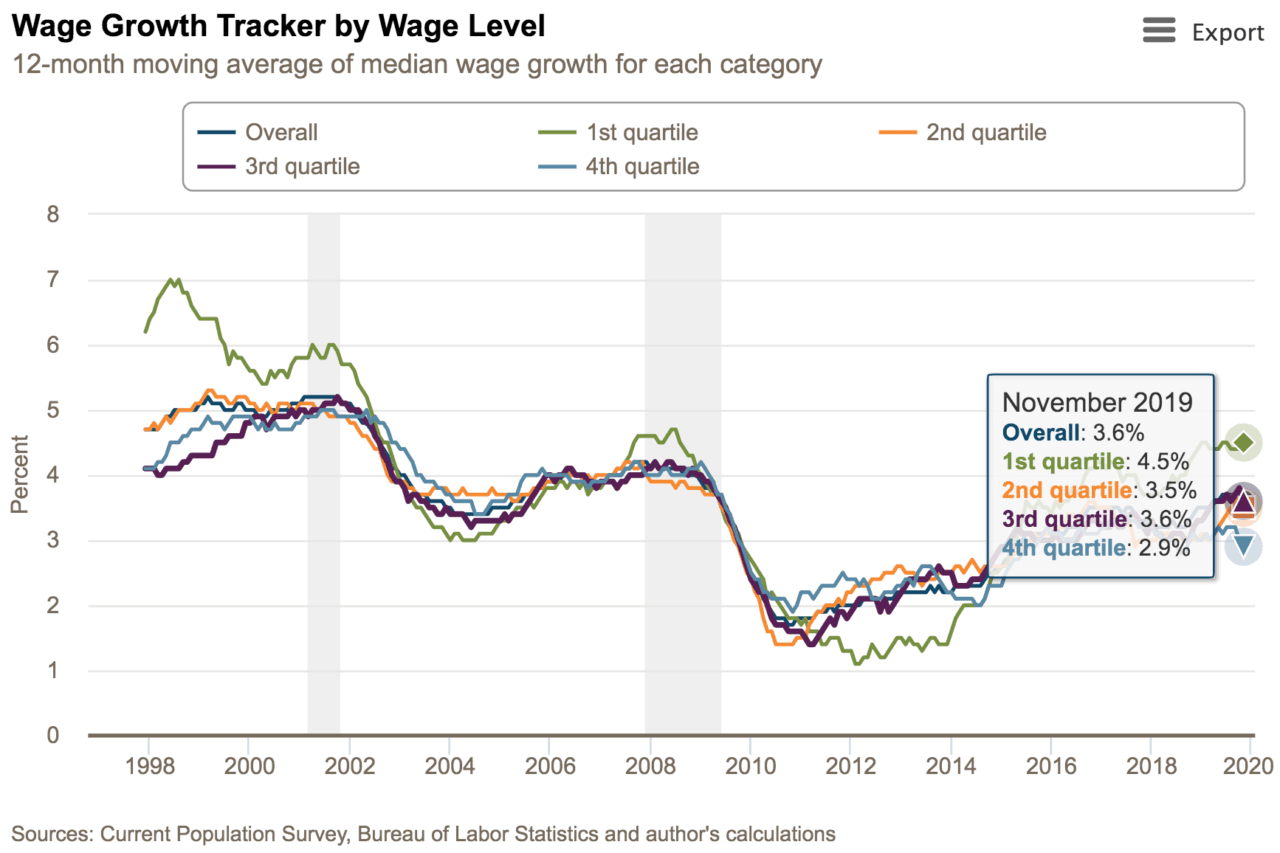 Overall wage growth year-to-year stands at about 3.6 percent. When broken down by industry, Americans in construction, mining, finance, hospitality, and manufacturing are all enjoying some of the highest wage growth in the country.
Americans in finance, for instance, secured 4.1 percent wage growth year-to-year, while those in the construction and mining industry — where Americans are most likely to compete against lower-wage illegal aliens — have secured four percent wage growth. Manufacturing workers, as well, have gotten a four percent wage hike year-to-year.
For the first year in decades, the U.S. economy has tipped toward American workers rather than employers in terms of the labor market. Today, due to less foreign competition, workers have more chances to seek out the highest-paying job. For decades, it was employers who would bid on workers.
President of the Mooyah Burgers restaurant chain, Tony Darden, told the Wall Street Journal that the tightening of the labor market has forced wages up for his employees:
"The effective labor pool is smaller than what it has been in the past," said Tony Darden, Mooyah's president. "As you look to bring on folks, ultimately higher wages are used to attract them." [Emphasis added]
There is one particular detail that you may have noticed above that we are being warned about by the experts. Actually, there are two parts to the concerns they have, but from the same issue. That issue is one of immigration, both legal and illegal. A surge of immigrants, no matter whether legal or not, can put the hurt on Americans in the working and middle classes by reducing the wage gains.
There are still about 11.5 million Americans who are fall in the status of underemployed or unemployed — or are out of the labor market — but yet there are plenty who want to have full-time jobs that pay well.
This may be a side issue, but I think with the market like this, it seems like a good time for lawmakers to get on the Trump train, do something about over-regulation, and loosen things up so more people could get back to work.  I believe it makes sense…what about you?